EVENT WILL BE HOSTED AT DUEL ARENA AND IT WILL BE ALL
1V1S.
Maximum of 32 player may enter the event
(NO ALTS ALLOWED)
if you get caught using an alt you will be
Disqualified
. C
omment your
IGN
 below 
(
Make sure this will be the account you will participate with
).
Once the tournament starts  i will yell who will go against who it will be randomly picked. You will have 3 minutes to show up at duel ready to fight. After 3 minutes you don't show up 
WILL BE INSTANT DQ.
All prayers allowed
Except
Melee Protection. 
Vengance is allowed.
Tournament Brackets can be found here: 
https://challonge.com/etherum
Equipment
Berserker Helm, Amulet of Strength, Ardy cloak 4, Dragon Scim, Rune Plate, Rune Defender, Rune platelegs, Rune Gloves and rune boots.  (You can get this by typing
::pksupply
(
melee (mains)
).
Rings are not allowed.!!!!!
Your gear should look like this, all can gathered from
::pksupply table!!!!
Inventory
Spec weapon AGS only.
No potions allowed
.
Food Rocktail only
. Runes for V
ergance are allowed.(
I will give all the participant an AGS for free and you get to keep it
).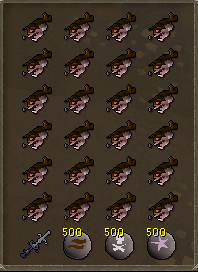 PRIZES
 1st place.

2nd place.

 3rd place.

Good luck everyone !!!! have fun